Natural Building Certificate
Natural Building Certificate Workshops
Our Natural Building Certificates will be awarded for attending one of our 2-5 week Natural Building Certificate Workshops. You will get opportunity to study and build with natural building materials and green technologies hands-on. Understanding the climate and environment of the building site is essential to designing a building that is appropriate for it. In times of a climate crisis it is particularly important to us to teach you about embodied carbon. Namely how to keep it as low as possible in your building. After this workshop you will know how to build unique, eco friendly, resilient, long lasting structures with local and abundantly available materials. From foundation to roof, including planning, sculpting, plastering, electricity and plumbing inside the walls, you will learn how to build a house, by doing it.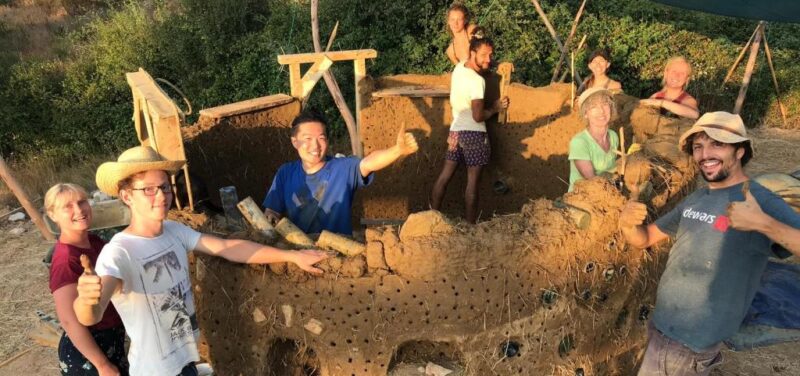 The Natural Building Certificate Workshops are an Introduction to Natural Building techniques and green building technologies. This includes hands-on practice with natural rock foundations, insulative as well as thermally massive wall systems, earthen floors and plasters as well as natural paints and finishes. Depending on the host's project, workshops can include extras, such as green roofs, reciprocal roofs, green houses and others. In a Master Natural Building Certificate Workshop you will get 175 hours of practical experience plus 25 hours of lectures. That is an intensive 200 hours course, that will change how you think about living spaces.
Who is a Natural Building Certificate for?
Our Natural Building Certificate is for everyone who wants to know what alternatives to conventional building technologies are out there. Whether you are environmentally conscious and want to reduce your carbon footprint, or surround yourself with healthy natural walls. Whether you want to build cheap by doing everything yourself, or because you want a hand-sculpted house reflecting your creativity. Natural Buildings can give you all of that. Our students come from all over the world. Whether man or woman, young or old, Natural Building is for everyone. With the knowledge from this course you can get started building your own home or become a professional Natural Builder.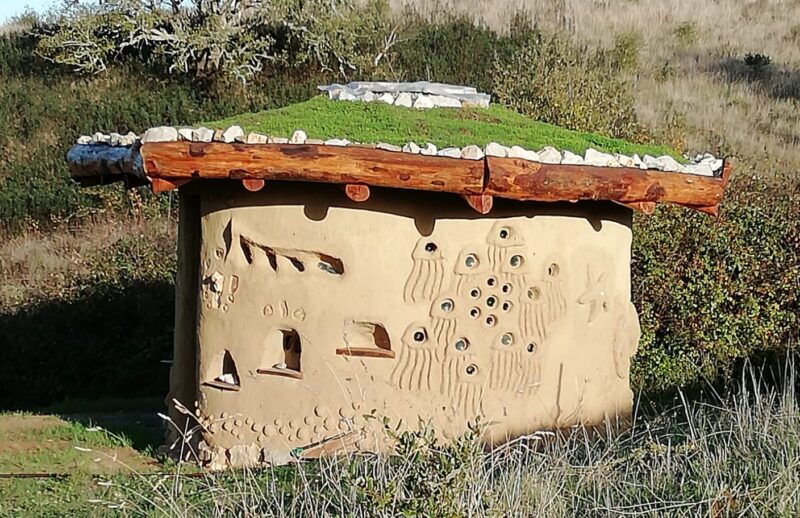 Please consider that this course will be physically demanding, as we are building a whole house bare-handed and -footed. If you are not able to do hard work please let us know before the workshop, so we can arrange other task for you.
Natural Builder Certification
You will receive a Natural Builder Certificate, all the teaching materials by email, as well as the permaskills – Natural Builder's Handbook, which is a summary of the workshop building steps, upon graduation.
Our Natural Building Certificate Workshops usually begin on Sunday afternoons at 4 pm with an Opening Circle and Introduction to Site & Project, the Welcome Dinner and Introduction to the Workshop. They end on Saturdays, around 2 pm after the Graduation ceremony, Closing Circle & Lunch.
You can arrive a day or two before to settle in, but food and our chef's services will only be provided from Sunday evening.
Overall Schedule
Timeframe
Focus On
Sun. 4 pm
Opening Circle, Welcome Dinner, Introduction
week 1
Lectures:
Ground Assessment
Materials and soil analysis
Passive solar, placement and orientation
Foundation & drainage
Earthen floors and insulation
Practice:
Natural rock stem wall & foundation Drainage
Plumbing (drains for sink, shower, toilet)
Floor insulation and earthen subfloor
week 2
Lectures:
Timber Framing with round wood
Wood connections
Window & Door Frames
Power & hand tool instruction
Practice:
Wooden frame and roof
Window & Door Frames
Live Edge Shelves
week 3
Lectures:
Natural wall systems
Cob / floor / plaster mixture and calculation
Wall insertions
Electrical conduits & plumbing
Natural Building Design
Building to code
Practice:
Cob / Adobe / Rammed Earth walls
Niches, arches, shelves, bottle bricks, and other wall insertions
Electrical conduits and outlets
week 4
Lectures:
Strawbale and Light-Straw-Clay walls
Roof types and covers
Natural plasters
Practice:
Roof connection to wall
Sculpting with Cob
First and second layer of plaster
Second floor layer
week 5
Lectures:
Natural finishes and paints (clay, lime, oil, wax, tadelakt, pigments)
Cost analysis and planning
Project specific extras like green roof, heater, green house, custom doors or windows, etc.
Practice:
Roof cover
Natural finishes and paints
Project specific extras
Small scale models of future projects, time permitting
Sat 10 am
Closing Circle
In addition to the lectures, slideshows and videos will be shown to support and enhance your understanding of materials, building, design, geography, budgeting, project management, business options and legal issues.
| Timeframe | Focus On |
| --- | --- |
| Mon – Fri | all-day hands-on class |
| Mon, Wed, Fri | 60 min lecture after Lunch & Rest time |
| Sat | morning hands-on (optional), afternoon off |
| Sun | all-day off |
Saturday mornings are optional buffers, should we fall behind in schedule. Saturday afternoons and Sundays are off to explore the region further and stay somewhere over night.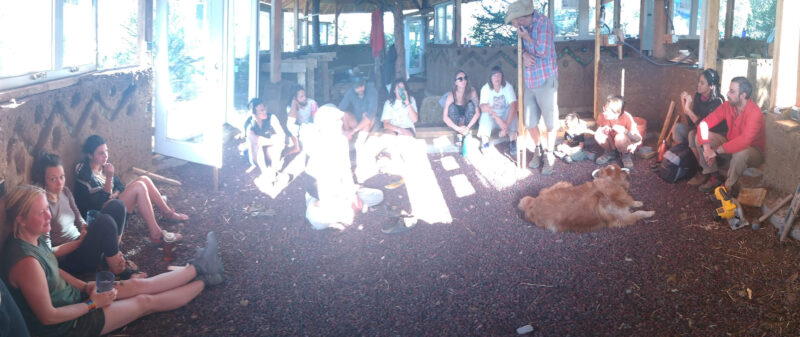 | Timeframe | Focus On |
| --- | --- |
| 6:30-7:30 | Meditation/Yoga (voluntary) |
| 7:30-8:30 | Breakfast |
| 8:45-1:00 | Class |
| 1:00-2:30 | Lunch |
| 2:30-5:30 | Class |
| 5:30-7:00 | Rest/Yoga |
| 7:00-8:00 | Dinner |
| 8:00-9:00 | Slides / Videos/Discussion (once a week) |
There is often someone who leads yoga or some other movement practice in the morning and/or the afternoon. We like to have one evening a week to show slides, videos or have workshop related debates. The rest of the time you can spend on your own, join a jam session around the fire or contribute something to share with the group.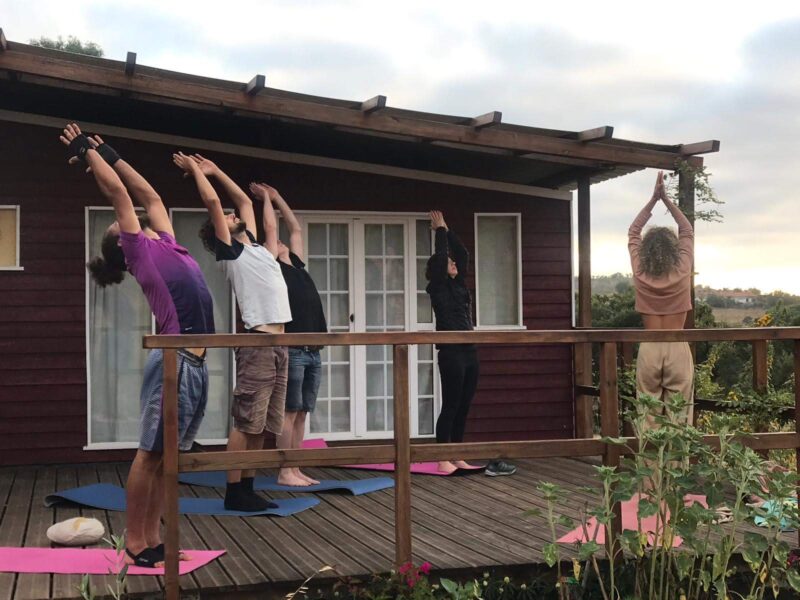 There are no skill requirements for the Natural Building Certificate Workshop! That said, it certainly won't hurt if you know some things and put it to good use or share it with others. Nobody is perfect and we are always curious to learn other ways of doing things.
Please bring an open mind and be prepared to do some demanding physical work from Day 1.
Watch or Phone to be on time (bring a charger)

Rubber dishwashing gloves (thick, for lime mortar)

Work Gloves (rubber palm, breathable back)

Eye and Ear Protection

Sunglasses

Hat

Dust mask

Clothes to get dirty appropriate for the country and climate we are in

Work boots

Flip-flops for cobbing days

Good Moisturizer

Water Bottle

Notebook and pens / pencils

Camera

Sample of Your Soil (Optional)
In short, bring whatever you NEED to be comfortable and happy when camping for over a month. 
 There are many local stores in case you forget something or prefer to buy it in Italy! Our recommendations for stuff to bring are:
Bathing Suit for swimming in the sea, we have almost no waves here and the water is pretty warm, windsurfing might be an option though

Clothing for hiking

Warm jacket for evening time

Chocolate! Or whatever essential snacks you're craving

Pillow and favorite cuddle blanket
Optional: if you like to bring your own tools
Measuring tape (ideally with inch and cm)

Level (60cm / 2ft)

Utility knife

Carpenter Hammer (the one that can remove nails)

10-15cm / 4"-6" diameter round plastic yogurt lids (for plastering)
Be prepared
Please read "The Natural Building Companion, Ace McArleton, Jacob Deva Racusin" (all in one, quite technical) or "The Handsculpted House, Ianto Evans, Michael G. Smith, Linda Smiley" (cob, inspirational) before arrival, you won't have much time to read them during the workshop. Watch some videos on YouTube about natural building and browse our gallery to get an idea of what to expect from the workshop. Please bring your book(s) and any other books or poems to share as well as slideshows, videos, movies, and downloaded building site music playlists!!!
Make sure to take care of your personal needs, drink a lot of water, rest when needed and exert yourself at a steady pace. Let us know if you cannot do hard physical work before the workshop begins, so we can adjust accordingly. It is totally OK to come for the lecture/theory part, and then help the building part in less physically demanding ways, for example cutting straw, sifting for plaster, hammering nails into frames or shelves, sculpting, plastering, cutting bottles. There is a lot to do besides making and building!
Share what you are good at
If you are a qualified teacher or leader in something beneficial to our month-long time together, and would like to offer it up, please don't hesitate to speak to the Instructors before or during the Workshop! We are open to non-building activities in the evenings and at night…if the energy is there of course.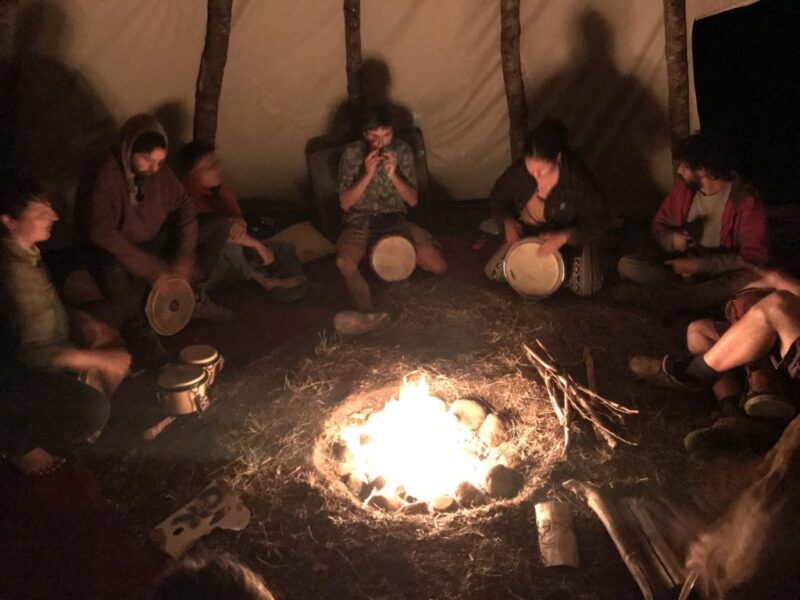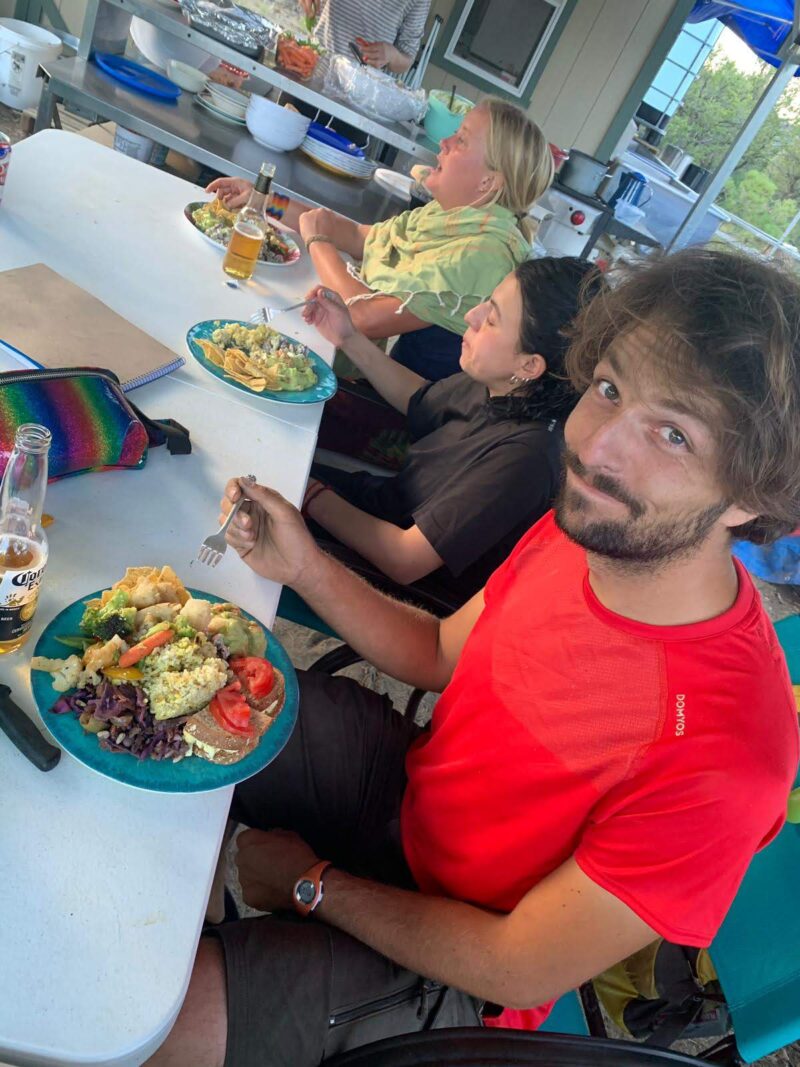 You will be fed 3 delicious meals a day during the weekdays, prepared by experienced cooks.  Suski workshop hosts always serve amazing food to students in gratitude for their hard work! We will be providing mainly ovo-lacto-vegetarian food. Therefore we can be sustainable and meet most culinary tastes. Depending on student's needs we could have fish, meat or vegan options however. We will try to meet people's requirements, so make sure to communicate them as soon as possible. On weekends, food will be available on site for you to prepare.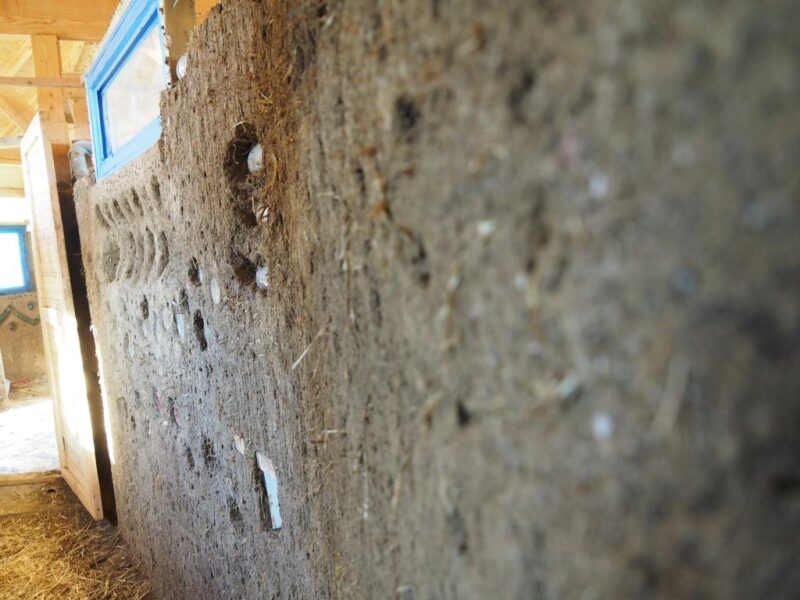 Accommodations
In most of our Workshop venues you will be camping. Compost toilets, hot and cold showers, a dining area, yoga/dance space and a cozy hangout communal area with fire circle will be offered for maximum comfort and enjoyment. We want you to have a wonderful and transformative time together.
Sometimes there are rooms available for extra comfort, but they are not included in the fee for the Natural Building Certificate Workshop.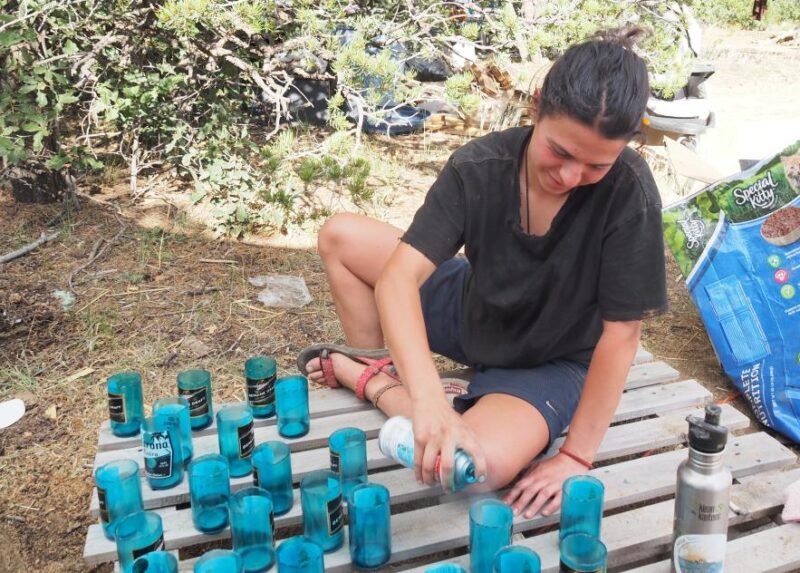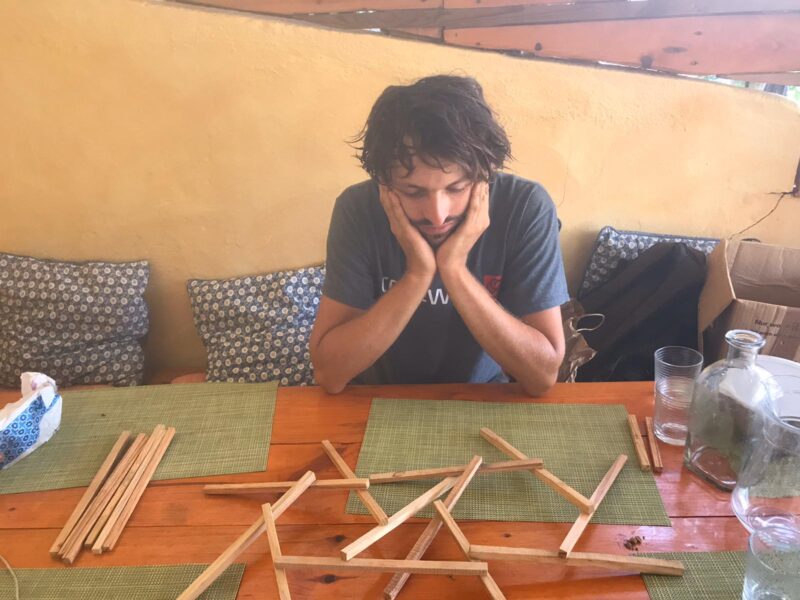 The Natural Building Companion, Ace McArleton, Jacob Deva Racusin

Sustainable Home Design, Chris Magwood

The New Carbon Architecture: Reversing Climate Change with Construction, Bruce King

Essential Building Science, Jacob Deva Racusin

Making Better Buildings, Chris Magwood

The Handsculpted House, Ianto Evans, Michael G. Smith, Linda Smiley

Serious Straw Bale, Paul Lacinski and Michel Bergeron

More Straw Bale Building, Chris Magwood, Peter Mack, Tina Therrien

Design of Straw Bale Buildings: The State of the Art, Edited by Bruce King

Using Natural Finishes: Lime and Clay Based Plasters, Renders and Paints – A Step-by-step Guide, Adam Weismann and Katy Bryce

The Natural Plaster Book, Cedar Rose Guelberth and Dan Chiras

The Natural Paint Book, Lynn Edwards and Julia Lawless

Earthen Floors, Sukita Reay Crimmel and James Thomson

Building with Lime: A Practical Introduction, Stafford Holmes, Michael Wingate
WE LOOK FORWARD TO MEETING YOU!!!!